Great set of images from a recent TED talk.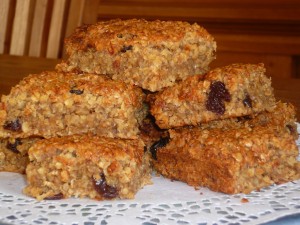 Makes about 16 squares
Ingredients
140g/5oz butter
140/5oz honey
85g/3oz soft light brown sugar
50g/2oz raisins or sultanas
340g/12oz rolled oats
1⁄2 tsp baking powder
1⁄2 tsp ground ginger
1⁄2 tsp ground cinnamon
2 medium bananas – peeled and mashed
Method
Set the oven to 180C/350F/Gas4
Melt the butter, sugar and honey together over a low heat. Add the mashed bananas.
Mix the oats, dried fruit, baking powder and spices together.
Combine the butter mixture with the oat mixture and mix well.
Spoon in to a greased tin approx. 23x23cm/9×9", level with the back of a spoon.
Bake for 20-25min, or until the top is golden brown.
Remove from the oven, cool for 10 min, then cut into squares. Allow to continue cooling in the tin until completely cold.
Jenny Thomson